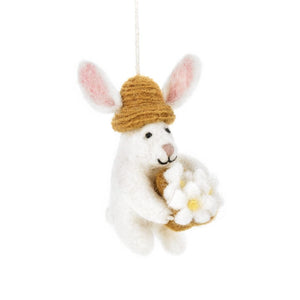 Meet Darcy, the cutest Easter Bunny in town!
Look at those ears poking out of her straw hat, she has been out picking her daisies in the summer sun.
This lovely bunny has been made under fairtrade working conditions by our skilled artisans in Nepal, and is completely plastic free.

A lovely decorative Easter Bunny, handmade of biodegrable felt. Size: 11cm x 5cm - Basket 3cm x 3.5cm
Feel great about where it comes from
Raw materials from Europe? No - New Zealand
Organic? Yes
Manufactured in Europe? No - Nepal
What's it made from? Sheep's wool from New Zealand. This natural by-product is processed to the highest environmental standards and always cruelty free. All the dyes used to create the vibrant colours are 'azo' free and most are natural dyes.
What's it packaged in? Nothing
Shipping packaging from manufacturer to us: recycled or biodegradable plastic bags and recycled postage bags
Plastic-free? Yes
Vegan? No - it is made of sheep wool
Free from testing on animals? Yes
Reused upcycled or recycled? No
Feel great about where it goes after you've used it
Biodegradable / compostable? Yes
Reusable / refillable? Yes - keep it in a safe, dry space and reuse it every year for Easter
Recyclable? Yes
Feel great about you and your child using it:
Great for ages: great for all ages
Shelf life: indefinite
Awards: not yet
Safety standards met: As this is a handmade ornament intended for a family to use together, and not a toy intended for a child to use alone, it does not require or bear the CE-mark.
Solvent-free? Yes
Gluten-free? Yes
Peanut-free? Yes
Soy-free? Yes
Lactose-free? Yes
Easy to wash-off clothes skin? N/A
Improvements we're working on in this product: We would love to see these made in Europe.
If you've got any stains, wiping with a wet cloth will remove nearly anything. If the wet cloth doesn't do it, hand wash your felt in lukewarm water with a plain soap – no perfumes or dyes, then wring it out and leave it to dry.When felt is well-loved, it tends to grow small piles of loose wool fibres. This is normal and happens with all wool products. Simply pull them off the item or use a pair of scissors to cut them off.