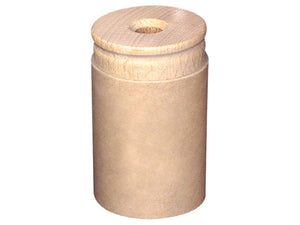 For mess-free sharpening especially in school. The cannister catches the parings and can be emptied that evening at home or end of the day in school.
Use markers or paints to decorate the cardboard cannister in your own style! No-one else will have a sharpener quite like yours!
Suitable for pencils up to 8mm in diameter (the "regular" type of common colouring and writing pencils, not the "chunky" type - for those choose our double sharpener),
Wooden pencil sharpener (on lid) with a cardboard cannister to catch parings. 6cm tall, 4cm in diameter. Suitable for pencils up to 8mm in diameter ("normal" thin colouring or writing pencils).
Feel great about where it comes from
Raw materials from Europe? Yes - Germany
Organic? TBC
Manufactured in Europe? Yes - Germany
What's it made from? Beechwood, recycled cardboard
What's it packaged in? Nothing
Shipping packaging from manufacturer to us: Cardboard only
Plastic-free? Yes 100%
Vegan? Yes
Animal-cruelty-free? Yes
Reused upcycled or recycled? The cardboard has already been recycled
Feel great about where it goes after you've used it
Biodegradable compostable?Wood and cardboard - yes; metal - no
Reusable refillable? Yes
Recyclable? Yes
Feel great about you and your child using it
Great for ages: 4+. Includes normal pencil-sharpening blade
Shelf life: Indefinite
Solvent-free? Yes
Gluten-free? Yes
Peanut-free? Yes
Soy-free? Yes
Lactose-free? Yes
Easy to wash-off clothes / skin? N/A
Improvements we're working on in this product: None but let us know!
Search terms: parer, pairer